La Pinta Cruise
Yacht LA PINTA offers a relaxed yet lavish expedition atmosphere, with plush outside cabins; the highest standards of service; the very best international cuisine plus celebrated Ecuadorian dishes, and all the amenities that make the Galapagos Expedition a trip of a lifetime.Our associates offer and expertly handle an environmentally friendly operation in the Galapagos National Park and is the pioneer of reliable and high-quality tourism in Ecuador. LA PINTA follows strict international standards in relation to safety at sea. Spacious public areas in the Boat Deck include a large Observation Lounge and Bar, which can be used for outdoor dining; a smaller outside Sky Bar towards the stern, fore and aft observation decks, an exercise room, Jacuzzi and a well-stocked Natural History Library-Conference Room. At the Main Deck is a window-lined Dining Room, with open seating and no formal dress requirements; the Reception Area, Boutique and Doctor's Office. The Galley and crew quarters are also located in the Main Deck.

8 day cruise leaves on Fridays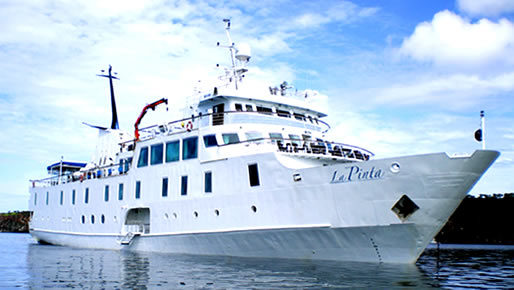 Toll free in the USA & CANADA: 1 800-704-2915 - Worldwide
ITINERARY
Day 1: Baltra Island - Las Bachas (Santa Cruz Island)
Day 2: Punta Espinoza (Fernandina Island) - Punta Moreno (Isabela Island)
Day 3: Post Office Bay - Champion Islet (Floreana Island) - Punta Cormorant (Floreana Island)
Day 4: Cerro Dragón (Dragon Hill) (Santa Cruz Island) - North Seymour Island
Day 5: Highlands of Santa Cruz Island - Puerto Ayora - Charles Darwin Research Station
Day 6: Sullivan Bay (James Island) - Puerto Egas (James Island)
Day 7: Puerto Baquerizo Moreno - Cerro Brujo
Day 8: Baltra Island


SPECIFICATION
Type: Luxury
Length: 207 ft. (63m)
Speed: 12-14 knots
Capacity: 40 Passengers
Acommodations: 24 outside cabins, all similar, in the same deck.
End of our services.