Eric, Letty & Flamingo Yacht
These three identical first class 20-passenger motor-yachts offer tremendous value and superior comfort in spacious accommodation. Built in 1991 and refurbished every year, each yacht features ten double outside facing cabins located on three decks with polished teak wood interiors, window view or portholes, fully air conditioned throughout, private bath facilities with hot-and-cold-water shower, hair dryer, toiletries, roomy closet and drawers, overhead storage, separate climate controls, ionizer (iguana and booby deck only), intercom system and bottled water. Public areas include a dining room, well-stocked bar and conference area with 29" flat screen television, DVD player, board games, library of books and DVDs. Stereo cassette/CD equipment is available on the bridge. Picture windows surround the upper two decks offer a spectacular panoramic view of the ocean and landscape. Full crew with a level III naturalist guide. Snorkeling equipment, custom wet suits, beach towels and sea kayaks are available at no additional cost.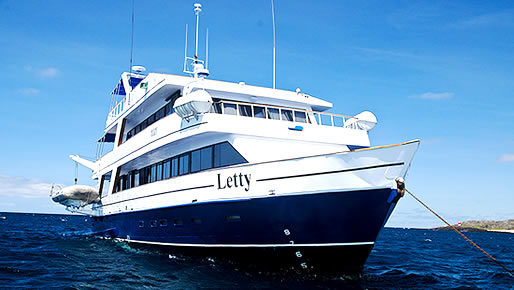 Toll free in the USA & CANADA: 1 800-701-4039 Freephone in the United Kingdom: 0 808 2346805
INTINERARY
DOLPHIN DECK
#1, 3 & 4 have two twin lower beds and picture windows. Cabin # 2 has one double bed and picture window. (Cabins average 95 sq feet)
BOOBY DECK
Cabins # 5 & 6 cabins have one double bed and picture windows. (Cabins average 90 sq feet)t)
IGUANA DECK
Cabins #7 & 8 have two twin lower beds and port lights. Cabins # 9 & 10 have two twin lower beds and one upper berth with port lights. These two cabins can be taken as triples. (Cabins average 110 sq feet)
(11 days/10 nights) Monday to Thursday or alternately Thursday to Sunday
Monday: San Cristobal/ Isla Lobos
Tuesday: Gardner Bay/ Punta Suarez - Espanola
Wednesday: Floreana/ Champion Islet/ Enderby/ Devil's Crown
Thursday: North Seymour/ Cousins Islet/ Bartolome
Friday: Punta Espinoza/ Punta Vicente Roca
SAT/SUN/MON/TUE: Wolf and Darwin
Wednesday: Gordon Rocks/ Puerto Ayora - Santa Cruz
Thursday: Interpretation Center/ San Cristobal


Itinerary (8 days/7 nights)
Sunday: San Cristobal/Isla Lobos
Monday: North Seymour/Cousins Islet/ Bartolome
Tuesday: Punta Espinoza/ Punta Vicente Roca
WED/ THR/ FRI: Wolf and Darwin
Saturday: Gordon's Rocks/ Puerto Ayora - Santa Cruz.
Sunday: Interpretation Center/ San Cristobal.

End of our services.