Coral I & Coral II Yacht
The Coral II like her twin brother the Coral I provide privacy in very comfortable lounges, dining rooms and conference areas with TV and VCR. Well stocked bars, large picture windows, and expansive observation sun decks. The yachts comply with local and international standards enforced by ISM (International Management Code for the Safe Operation of Ships and for Pollution Prevention) and for added safety Coral and Coral II sail together. The Coral yachts accommodate 20 & 24 passengers and all interiors are beautifully decorated in teakwood and bronze. Passengers are accommodated in well-appointed, air conditioned outside cabins with twin, double or upper lower beds. All cabins have private bathroom with shower, sink and toilet. Adjoining family cabins are also available. Full crew with a naturalist level III guide.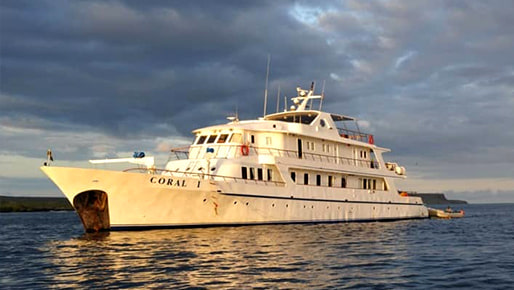 Toll free in the USA & CANADA: 1 800-701-4039 Freephone in the United Kingdom: 0 808 2346805
INTINERARY
4 day cruise
Sunday: Baltra - Bachas
Monday: Espanola - Gardner Bay - Punta Suarez
Tuesday: San Cristobal - Punta Pitt - Leon Dormido - Isla Lobos
Wednesday: North Seymour - Baltra - Bartolome

5 day cruise
Wednesday: Baltra - Bartolome
Thursday: Isabela - Urbina Bay - Tagus Cove
Friday: Fernandina- Punta Espinoza - Isabela - Punta Vincente Roca
Saturday: Santiago Island - Puerto Egas -Rabida
Sunday: Charles Darwin Station - Santa Cruz Highlands - Baltra


8 day cruises From Sunday to Sunday or from Wednesday to Wednesday
End of our services.