TOUR TRAVEL DESTINATIONS
Tour Extensions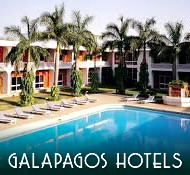 FIND YOUR CRUISE HERE!
By yacht name:
By capacity:
By Category:
By Price:
Galapagos News: Lonesome George could have offspring

After 36 years of exhaustive efforts, "Lonesome George", the last survivor of the Pinta Island giant tortoise species (Geochelone abigdoni) would be able to reproduce. Park rangers in charge of the "Fausto Llerena" Captive Breeding Center found a nest with eggs laid by one of the two Wolf Volcano females that have shared a pen with him since 1993. Out of nine eggs laid, only three were intact. These were placed in incubators, at different temperatures to obtain 2 females and 1 male. There will be a wait of 120 to 130 days before it is known if the eggs are fertile and George will have offspring. * Source: Communication Process - Galapagos National Park
Recommended Luxury Travel
Companies and Tour Operators: Amazing Peru: The finest and most original tours throughout Peru and Latin America. Highly recommende by worldwide renowned travel magazines and travel guides.
www.amazingperu.com
Beagle Yacht
The Beagle (formerly known as Andando) is a magnificent steel-hulled schooner with teak decks and a luxurious interior. Exceeding all safety standards, she is as reliable as she is comfortable. The open and shaded deck space, spacious cabins, and salon with color TV and video equipment all ensure that you feel at home right away. With delicious Ecuadorian cuisine served in the home-like salon or on deck, a multilingual guide, and legendarily superb service from captain and crew, the owner-operated Beagle will take you through the islands with ease and pleasure.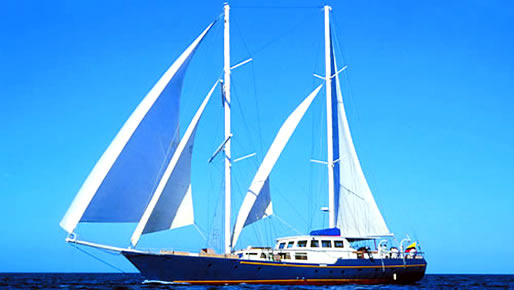 Toll free in the USA & CANADA: 1 800-701-4039 Freephone in the United Kingdom: 0 808 2346805
INTINERARY
Day 1: Baltra - North Seymour
Day 2: South Plaza - Santa Fe
Day 3: Hood - Gardner Bay - Punta Suarez
Day 4: Santa Cruz - Darwin Station - Highlands
Day 5: Floreana - Punta Cormoran - Post Office Bay
Day 6: James Bay - Bartolome
Day 7: Tower - Darwin Bay - El Barranco (Prince Phillip's Steps)
Day 8: Caleta Tortuga Negra - Baltra

8 day cruise leaves on Tuesdays

SPECIFICATION
Type: First Class
Length: 105 ft. (32m)
Speed: 8 knots
Capacity: 13 Passengers
Acommodations: 6 double and one single cabin, each with A/C, toilet, and private bath with hot shower.

8 day cruise leaves on Tuesdays
End of our services.
Christmas and New Year